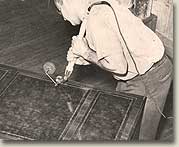 Gold Leaf Embossing Tools
Since 1905 Fort Hill has been making Gold leaf embossing tools, rolls and stamps. These tools have been used by furniture manufacturers, leather artisans, book binders, and antique furniture refinishers in hundreds of applications. You will find our patterns on the finest leather topped furniture in the world as well as leather books, belts, shoes, and applied to wooden furniture in the form of maker's marks.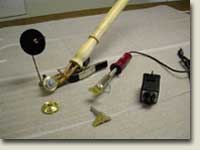 Our products of manufacture are electrically heated rolling type leather embossing machines and accessories, manual stamping irons and embossing dies of higher wattage for stamping wood. These tools are the finest available for gilding ornamental designs in low or higher volume applications.
The application of gold leaf is simple using a Fort Hill Electric Tooling Iron. The heat is regulated and held constant allowing the operator to move more slowly and concentrate on pressure. The tool doesn't lose heat as progress is made around the desk. Time can be taken for the perfect application, one you will be proud of.
Our tools are 100% U.S. made by fine toolmakers and craftspeople to the highest quality standards. Only the best materials are used in their manufacture, as a result many Fort Hill Tooling Irons have been operating for well over 60 years.
Fort Hill Engraving Company, Inc.
19 Blueberry Road
Ashburnham, MA 01430
Phone: (978) 985-9876
E-mail: info@forthillengraving.com