Equipment

The # EH 48S Iron is a hand held electrically powered embossing tool. It has a bronze casting, with an embedded 115 volt AC, 75 watt heating element, which holds a shaft for mounting brass gilding rolls and accessories. The brass rolls are heated by the tooling iron and through a combination of pressure and speed emboss gold leaf onto leather. These brass rolls can also be used without gold leaf for "blind" tooling of leather. The unit is balanced and controlled by a long wooden ergonomically friendly handle that feeds an electric cord to a power source. The heating unit is 115 volts A/C, 75 watts.

The Automatic Foil Holder consists of a precision right angle shaft and two acrylic discs that mount on either side of a roll of gold leaf foil. The guide attaches to the end of the gilding roll shaft by means of a setscrew and is fully adjustable. Light pressure applied to either side of the leaf, allow the leaf to feed smoothly down under the gilding roll. Foil is automatically fed under the gilding roll as the tool is moved. Foil widths as narrow as 3/8" can be mounted in the foil holder.

The Outside Guide allows straight lines of pattern to be applied without the use of rulers or straight edges. It is adjustable to different lengths and comes complete with one axle extension. It is comprised of a heat resistant roller and an extension shaft to reach out to the edge of the desk or table. The guide attaches to the EH 48S tooling iron by extending the roll mounting shaft, these extensions allow the guide roller to contact the edge of the desk. When fitted properly to the iron the guide rolls along the outside of the desk or table. Note, the guide will not work on all the panels of a three panel desk.

The Rheostat Control delivers constant and consistent amperage to the EH 48S Tooling Iron and the # 16 Hand Stamp. The resulting constant temperature allows long lines of leafed design to be applied evenly without smearing or slipping. The rheostat control plugs directly into standard wall outlets and the cords from the tooling iron and hand stamp plug directly into it.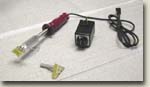 The # 16 Hand Stamp is a hand held electrically powered embossing tool. The tool is used to apply designs or logos on wood or gold leaf on leather. This tool has an embedded 75 watt heating element and shaft which mounts brass corner, center, or specialty stamps. These decorative brass stamps are heated by the electric hand stamp and with pressure emboss gold leaf onto leather
The Stub Shaft is used in conjunction with the # 16 Electric Hand Stamp. Install one in each corner stamp and center stamp to allow quick and easy design changes.

Replacement Heating Element Cartridges are available for the EH 48 S tooling iron and comes with extra long leads.
Fort Hill Engraving Company, Inc.
19 Blueberry Road
Ashburnham, MA 01430
Phone: (978) 985-9876
E-mail: info@forthillengraving.com